Overview
Achilles tendinitis is often a misnomer, as most problems associated with the Achilles tendon are not strictly an inflammatory response. A more appropriate term, which most experts now use, is Achilles tendinopathy which includes, Tendinosis, microtears in the tissues in and around the tendon. Tendinitis, inflammation of the tendon Most cases of Achilles tendon pain is the result of tendinosis. Tendon inflammation (tendinitis) is rarely the cause of tendon pain. Achilles tendinopathy is a common condition that occurs particularly in athletes and can be difficult to treat due to the limited vascular supply of the tendon and the stress within the Achilles tendon with every step. Evidence indicates that treatment incorporating custom foot orthoses can improve this condition by making the foot a more effective lever in gait. A 2008 study reported between 50 and 100% relief (average 92%) from Achilles tendinopathy symptoms with the use of custom foot orthoses.

Causes

Poorly conditioned athletes are at the highest risk for developing Achilles tendonitis, also sometimes called Achilles tendinitis. Participating in activities that involve sudden stops and starts and repetitive jumping (e.g., basketball, tennis, dancing) increases the risk for the condition. It often develops following sudden changes in activity level, training on poor surfaces, or wearing inappropriate footwear. Achilles tendonitis may be caused by a single incident of overstressing the tendon, or it may result from a series of stresses that produce small tears over time (overuse). Patients who develop arthritis in the heel have an increased risk for developing Achilles tendonitis. This occurs more often in people who middle aged and older. The condition also may develop in people who exercise infrequently and in those who are just beginning an exercise program, because inactive muscles and tendons have little flexibility because of inactivity. It is important for people who are just starting to exercise to stretch properly, start slowly, and increase gradually. In some cases, a congenital (i.e., present at birth) condition causes Achilles tendonitis. Typically, this is due to abnormal rotation of the foot and leg (pronation), which causes the arch of the foot to flatten and the leg to twist more than normal.

Symptoms

Symptoms vary because you can injure various areas of the muscle-tendon complex. The pain may be an acute or chronic sharp, stabbing, piercing, shooting, burning or aching. It is often most noticeable immediately after getting out of bed in the morning, or after periods of inactivity, like sitting down for lunch. After a couple minutes of walking around, it will often then settle down somewhat, before becoming symptomatic again after excessive time standing or walking. But regardless of how the pain is perceived, Achilles tendon pain should not be left untreated due to the danger that the tendon can become weak, frayed, thickened, and eventually it may rupture.

Diagnosis

X-rays are usually normal in patients with Achilles tendonitis, but are performed to evaluate for other possible conditions. Occasionally, an MRI is needed to evaluate a patient for tears within the tendon. If there is a thought of surgical treatment an MRI may be helpful for preoperative evaluation and planning.

Nonsurgical Treatment

The main treatments for Achilles tendinitis do not involve surgery. It is important to remember that it may take at least 2 to 3 months for the pain to go away. Try putting ice over the Achilles tendon for 15 to 20 minutes, two to three times per day. Remove the ice if the area gets numb. Changes in activity may help manage the symptoms. Decrease or stop any activity that causes you pain. Run or walk on smoother and softer surfaces. Switch to biking, swimming, or other activities that put less stress on the Achilles tendon. Your health care provider or physical therapist can show you stretching exercises for the Achilles tendon. They may also suggest the following changes in your footwear, a brace or boot or cast to keep the heel and tendon still and allow the swelling to go down, heel lifts placed in the shoe under the heel, shoes that are softer in the areas over and under the heel cushion. Nonsteroidal anti-inflammatory drugs (NSAIDs) such as aspirin and ibuprofen can help with pain or swelling. Talk with your health care provider. If these treatments do not improve symptoms, you may need surgery to remove inflamed tissue and abnormal areas of the tendon. Surgery also can be used to remove the bone spur that is irritating the tendon. Extracorporeal shock wave therapy (ESWT) may be an alternative to surgery for people who have not responded to other treatments. This treatment uses low-dose sound waves.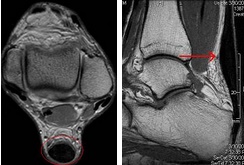 Surgical Treatment

It is important to understand that surgery may not give you 100% functionality of your leg, but you should be able to return to most if not all of your pre-injury activities. These surgical procedures are often performed with very successful results. What truly makes a difference is your commitment to a doctor recommended rehabilitation program after surgery as there is always a possibility of re-injuring your tendon even after a surgical procedure. One complication of surgical repair for Achilles tendon tear is that skin can become thin at site of incision, and may have limited blood flow.

Prevention

There are several things you can do to reduce the risk of Achilles tendinitis, warm up every time before you exercise or play a sport. Switch up your exercises. Slowly increase the length and intensity of your workouts. Keep your muscles active and stay in shape all year-round. When you see symptoms of Achilles tendinitis, stop whatever activity you are doing and rest.